Shopify is a great e-commerce platform that helps merchants extend the functionality of their online stores. There are numerous Shopify apps that help you boost your sales and promote your brand. However, it can be daunting to find the right fit for your Shopify store. In this article, we offer suggestions on some of the best Shopify apps you can maximize this 2019.
Recart is now the leading messenger app for Shopify used by thousands of online merchants. The app helps you boost sales using Messenger Marketing. Instead of sending emails, chat conversations with clients on Facebook Messenger are enabled. Messenger Marketing using Recart brings in great results due to its high engagement rates, more personal approach, and automated messenger campaigns.
Recart also offers one-click Messenger subscription tools. Using the messenger marketing approach, you won't have to worry about your messages getting lost in the promotions or spam folder. It also enables two-way conversation which is definitely ideal. Recart also has the Messenger Add to Cart Popup which encourages more customers to opt in.
Here are some of the other exciting features of Recart:
Welcome Messages to clients
Shipping and Delivery Notifications
Product Review Requests
Abandoned Cart Reminders
Order Receipts
Shopify is a global sales platform with customers from different parts of the world. Hence, when your target audiences coming from other parts of the world, you need an app that will determine their countries and convert their currencies. This Shopify app automatically converts currencies from different countries with just a few clicks.
Best Currency Converter has a beautiful design and can convert every currency around the world. Another great highlight of this app is that it is free of charge and you can add up to five currencies. However, there is the option of Auto currency switcher on Elite version at $9.95/month. With this option, the app can determine the countries of your visitors and convert to their currency.
3. Loox Reviews ( ← this link gives extended 30 days free trial, [default 14 days])
Loox Reviews app allows you to feature a photo review from customers for the product you are marketing. With Loox reviews, you are able to showcase the products reviews from satisfied clients in galleries of photo reviews. You will also be able to display your ratings on Google search results. It drives traffic to your site and boosts conversions as it builds a strong trust with your customers instantly. Get 30 days trial (could be crucial for your conversions).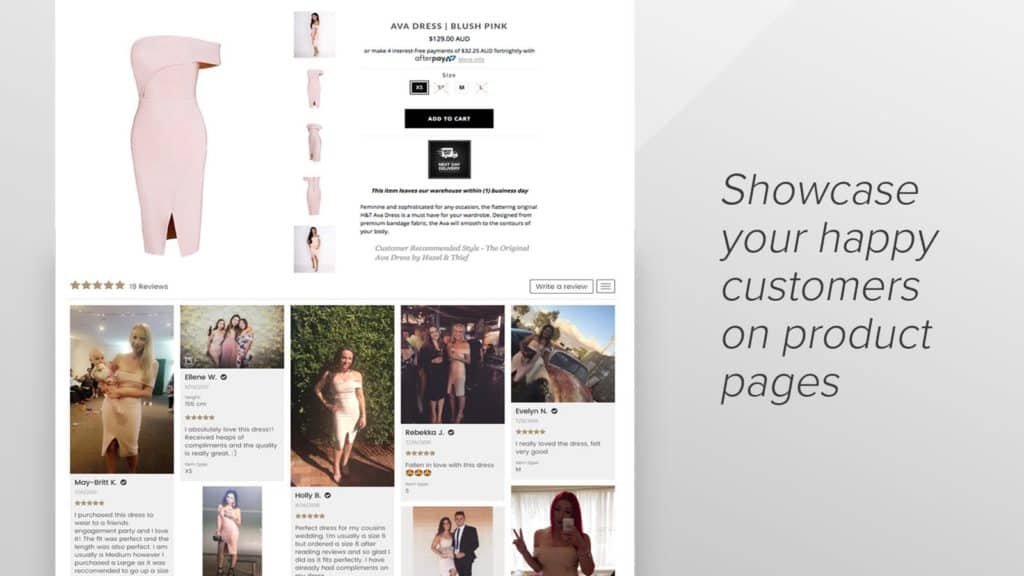 Every Shopify store needs an app like Tracktor. It facilitates real-time order tracking and package status. It's integrated with all main carriers there are. It doesn't only promote customer satisfaction, but it also helps you minimize support costs.
Here are the main advantages of using Tracktor:
Real-time order tracking and status lookup with more than 800 package carriers in the world, helping your clients track their orders real-time.
Users get to view their package status on your Shopify store with or without an account.
The interface matches well with your store with responsive design for mobile users.
It helps you add tracking links in your auto-emails and notifications.
Most Shopify stores use the Sales Pop app to attract new customers, gain their trust, and persuade them to purchase more items. The app automatically displays the recent sales transactions. It will show the recent orders placed so that other customers will feel more confident to buy products.
In terms of email and marketing automation, Omnisend is a great tool. It connects you to your prospective and existing clients through email, Google, SMS, and Facebook.
There are also pre-designed automation processes, which include the following:
Welcome greetings to introduce your company after customer signup
Abandoned Cart Recovery by reaching out to users who abandoned their shopping carts
Confirmation notifications in terms of order, cancellation, or shipment
Post-purchase messages to reactivate customers and encourage repeat purchases
The messages are highly targeted to meet your audience's expectations and buying intent. The signup forms are also customizable including the signup boxes, popups, wheel of fortune, and landing pages. You can also set up your newsletter and do other legwork instantly with the given email templates, product picker, product recommender, and CTR boosters.
Upselling is key to generate more revenue. There are a lot of apps which can help you achieve this, but OneClickUpsell by Zipify is one of the most reliable and affordable options. Upsells will show after the customers make their purchase. Since they're already in the buying mood and have already established their payment details, OneClickUpsell will work magic in encouraging more sales.
With OneClickUpsell, you have nothing to lose and everything to gain. Their upselling approach uses pinpoint targeting and Amazon-style one-click purchasing. Around 10-15% increase in sales was enjoyed by users who tried out the app.
If you are a merchant who gives BOGOs offers and seasonal discounts to your customers, then the Ultimate Special Offers app is ideal for you. It will increase your conversation rate by enabling you to give discounts based on the amount spent, quantity, or bundle. You can also give complementary gifts for bulk purchases with this app. Using it will also help you increase your Average Order Value (AOV).
If your online store has international operations, you need a Shopify app that will translate the language according to your visitors' requirements. Panda Language Translate will find the location of your visitors via IP and instantly translate the language. Another noticeable feature is that the app is able to translate up to 100 languages and one can select them manually using the Language Selector. What's more, no coding skill is required.
If you're looking for a great dropshipping app that helps you find the most trending products to sell online, go for Oberlo. It's free of charge, so you can definitely get all the perks you deserve. Oberlo offers in-depth product statistics to check the potential of the products before you start selling them. Thus way, your decisions are more data-driven and bound to yield success.
Oberlo's products are mainly from Europe and North America. There's also an order tracking feature, a sales dashboard, product page customization, inventory and price auto updates, and more. The best part really is that it's forever free.
Conclusion
With the above Shopify apps, you will be able to build trust, improve your SEO, and increase sales in order to create the best Shopify store that drives your success. While the apps have different features and functions, they are all designed to boost sales. Choose the ones that work best for your store and watch your business grow.