Introduction To Best Shopify Apps
Shopify is an e-commerce platform that hosts hundreds of thousands of businesses. They have developed the most used and preferred platform for e-commerce sellers. Shopify costs $29 per month and it gives its users most of the basic functions they need to sell their products online.
However, with the rapid growth of competition, marketers started creating different sorts of apps that give the needed competitive edge. Apps on Shopify work like plugins on WordPress. Developers use Shopify API to get access to your store and allow you to use additional features.
Every store owner wants to increase the conversion rate, the traffic, the Average Order Value, the email list, and fortunately, in 2020 there are great Shopify Apps for all of the above. 10 years ago it was so much harder to hire developers to build a new feature and it was always worth thousands of dollars.
We know how much time it takes to research, set up, and test all the apps so that's how this article was born. Here you get the best of the best Shopify apps for 2020.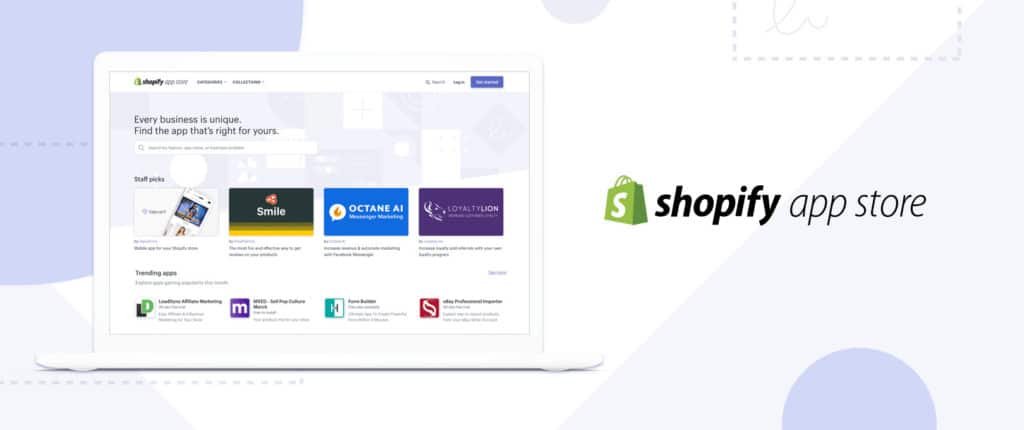 Best Apps On Shopify 2020 List
There are thousands of apps on Shopify, it's very hard to choose. Fortunately, we've had the opportunity to work with hundreds of Shopify stores. We have tested apps with real visitors and customers interacting with them in stores. As a result, we decided to make a full list of apps that we think are the best and why.
We recommend saving the article page in your bookmarks by pressing Command + D (Mac) or CTRL + D (Windows), as you might need it for future reference.
Best Shopify Apps For Email Marketing
1. Klaviyo – Best Shopify App for Email Marketing
Klaviyo is the number one email marketing app used by tens of thousands of Shopify stores. It has no match because of their focus specifically on e-commerce. The first and main reason why Shopify sellers must use Klaviyo is to recover sales. This is why we wrote an article about the Abandoned Cart Email Sequence in Klaviyo.
Other email automation you can implement with Klaviyo:
Welcoming new subscribers with coupons & promotions
Browse abandonment campaigns in the Ebay & Amazon-style, where subscribers receive emails base on what they just browsed on the store
Product review automation where you ask your customer to leave a review after a certain time
Customer win-back flow where you sent some sweet discount to customers who didn't make a purchase in a while
One-time broadcast in case you have a promotion or announcement
It is very powerful and can bring in thousands of new sales without having to invest in marketing campaigns on social media, Google or elsewhere.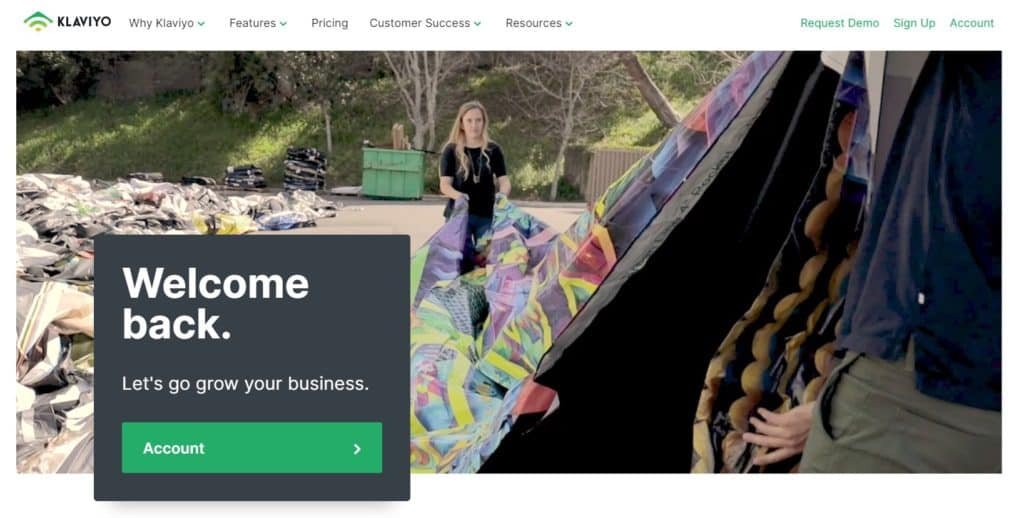 Klaviyo Pricing: For the first 250 subscribers, you can use Klaviyo for free. After that their pricing starts at $20 per month and progresses as the subscriber list increases. Since it's used to recover sales, build a list, automate emails, only 1 sale usually recovers the full cost.
2. Wheelio – Best Popup To Collect Email
This app is responsible for Shopify brands' list sizes growing quickly in the past 3 years. It shows a gamified popup where the visitor is asked to spin a wheel in exchange for the email.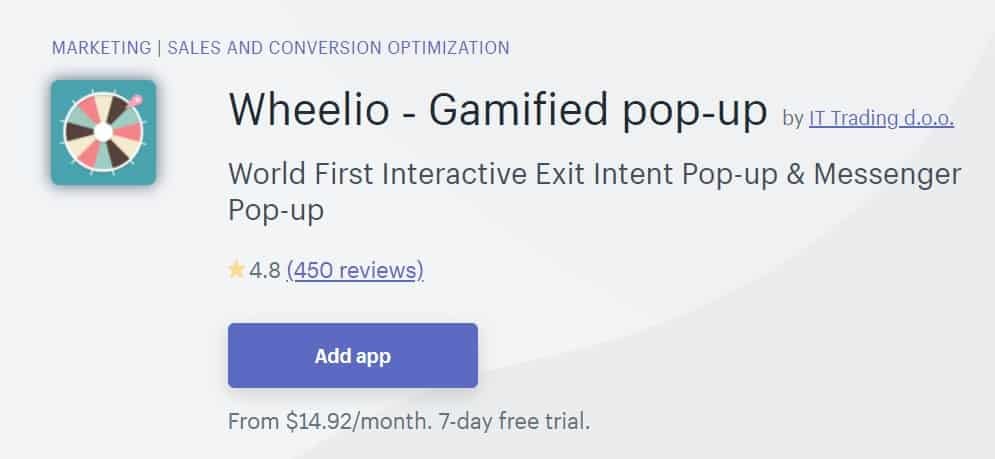 Let's say you get 100 people on the website and 2 of them buy your product, it means you lost 98 other people and have no way to reach them. With Wheelio app you can offer them discounts in exchange for email and get 5% to 15% of visitors giving you their email for discounts.
Wheelio Pricing: The app is now very famous and proven. It's worth trying for your brand for at least one month. There is a 7-day free trial and after that, it's under $15/month.
Best Shopify Apps For Reviews
3. Loox
Loox is the preferred Shopify app for tens of thousands of beginner and advanced Shopify stores. This is because Loox is very easy to use, affordable, and provides the social proof that you need on your product pages. Loox is mostly known for photo reviews, however, they allow you to import reviews from aliexpress, as well as collect reviews from your customers.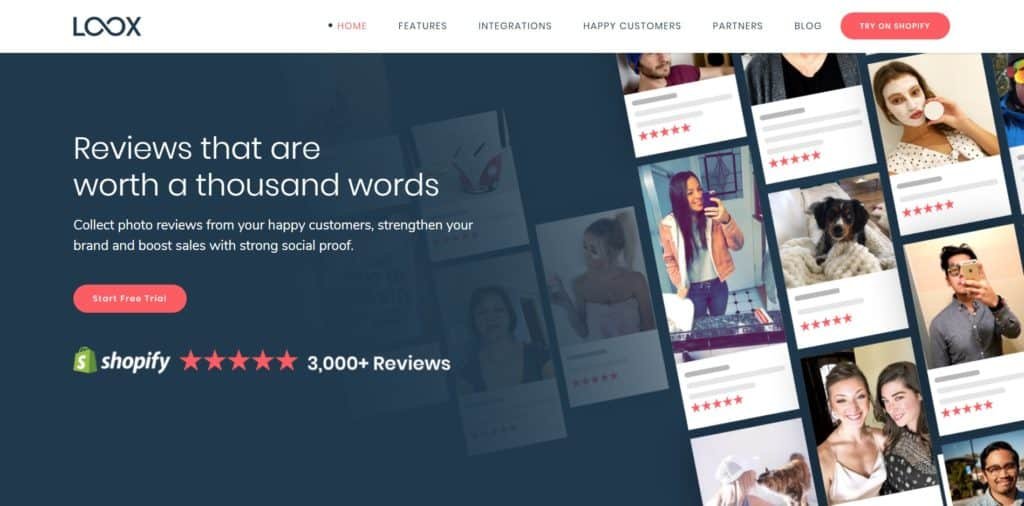 Loox app also helps with winning new sales from existing customers when they leave a review they are given a reward in form of an exclusive unique discount coupon. This reward system allows you to collect feedback from customers and also give them another reason to buy from your Shopify store.
Besides the review collection, Loox app creators have masterfully incorporated the sales pop social proof notification. They are the only ones who besides the usual text notification are showing the product that was bought by another product. The notification in the bottom left corner can be clicked and direct your website visitors towards the best sellers page.
Loox Pricing: With the link below you get 30 Days free trial (Exclusive from Dotcom Engine) and after the trial is over the price starts at $9.99 per month.
4. Shopify Product Reviews App
This is the app developed by Shopify which is an add-on to themes. It allows your customers and visitors to write text reviews for products. In 2020, the app still only supports text reviews and is used by thousands of stores where the image of the product is not so important.
We personally recommend Loox over Product Reviews because of the Photo Reviews option, visitors can decide way faster if they want to buy it, once they see the picture of the product from a customer.
Pricing: You can get the app here and it's completely free.
Best Shopify Apps For SEO
5. SEO Image Optimizer
This is one app that many Shopify store owners neglect but it delivers value instantly.
According to a study of U.S. web-based searches, the world's second most-used search engine is Google Images! That's why you want to make sure your images are optimized for Google's image search.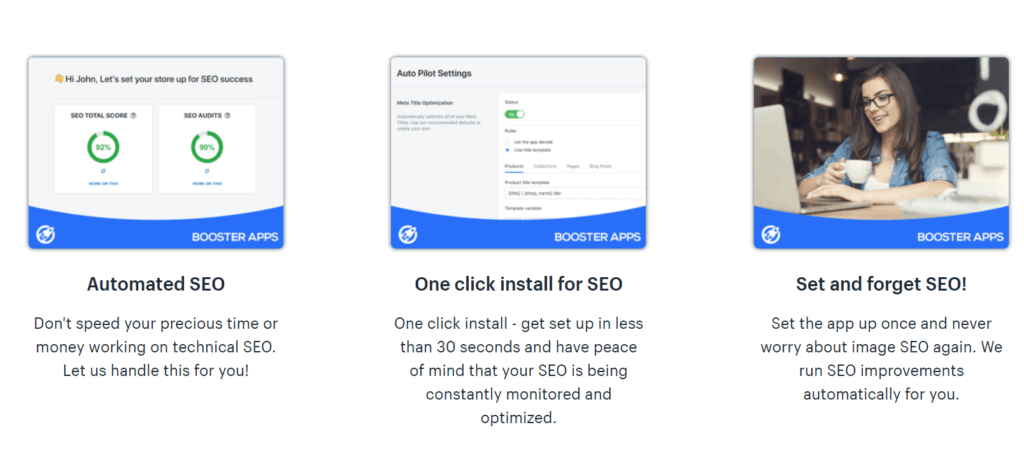 SEO Image Optimizer Pricing: The app has a free plan which allows you to optimize text and images, and a paid $24.99/m plan which adds metatags, broken links, google snippets, and auto-fixes.
6. SEO Manager
SEO Manager makes it easy for you to understand and implement SEO measures that will help your store rank better in search engines.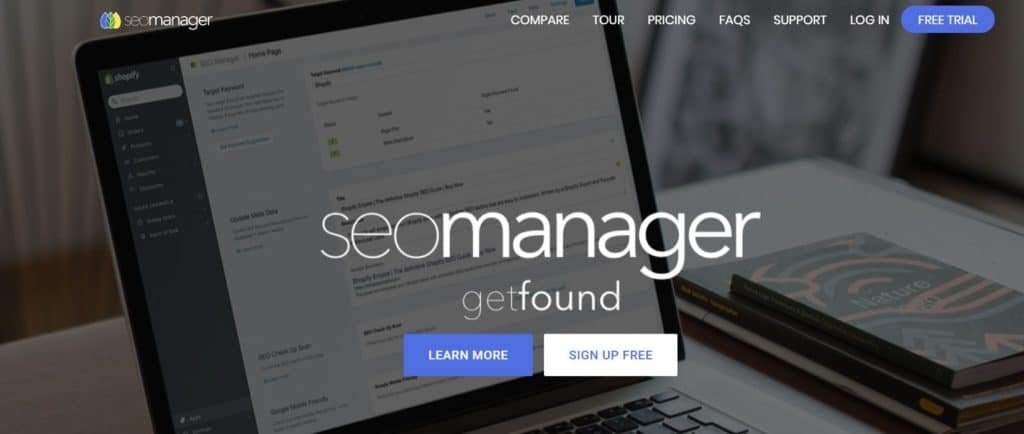 Simple to use, this app allows merchants to take control of how search engines see their stores and gives them real-time feedback about the success (or failure) of their search engine optimization efforts.
SEO Manager Pricing: The app has a 7-day free trial after which it's $20 per month.
Best Shopify Apps For Marketing
7. SMSBump
This is the app that gets an unbelievable 200-600% ROI for Shopify store owners in 2020. It is mostly used for recovering sales with automated SMS sent to your visitors who abandoned the checkout process.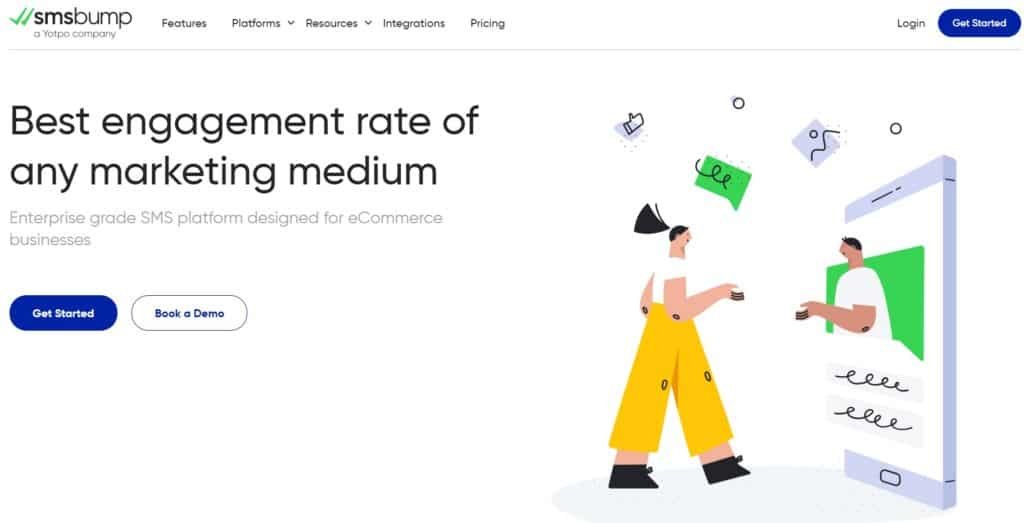 It can be a bit hard to set up because of all the compliance policies but it's worth the effort. You need to set it up once and you'll be able to not only collect email subscribers but also SMS numbers that you can use for marketing.
SMSBump Pricing: They offer a free plan with a pay as you go option and a paid plan. With the free option, you can send SMS to USA numbers for 0.0149 per SMS. With this link, you get extra credits for your initial free SMS messages.
8. Bold Subscriptions
Having cash coming every month is the best way to build a long-term business and brand. It has been proven by the majority of the big companies and brands that adding a subscription is a must not option.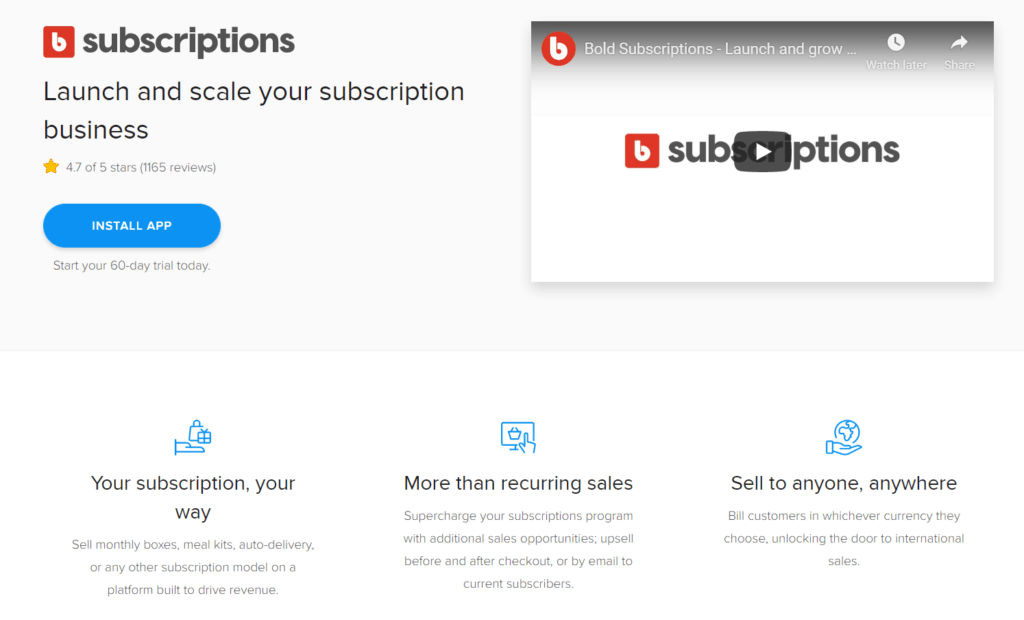 Your customers will love the control and flexibility they have over their subscriptions. They can edit, add to, update, change billing info, address, swap products, skip shipments and more! Their subscription will automatically recharge at whichever interval you choose, providing a steady source of recurring revenue.
Bold Subscriptions Pricing: Bold Subscriptions offers a 60 Day free trial period and is only $29.99 per month after trial.
9. Recart
Forget low email open rates and spam folders. Increase your revenue by engaging customers on the platform they actively use: Facebook Messenger.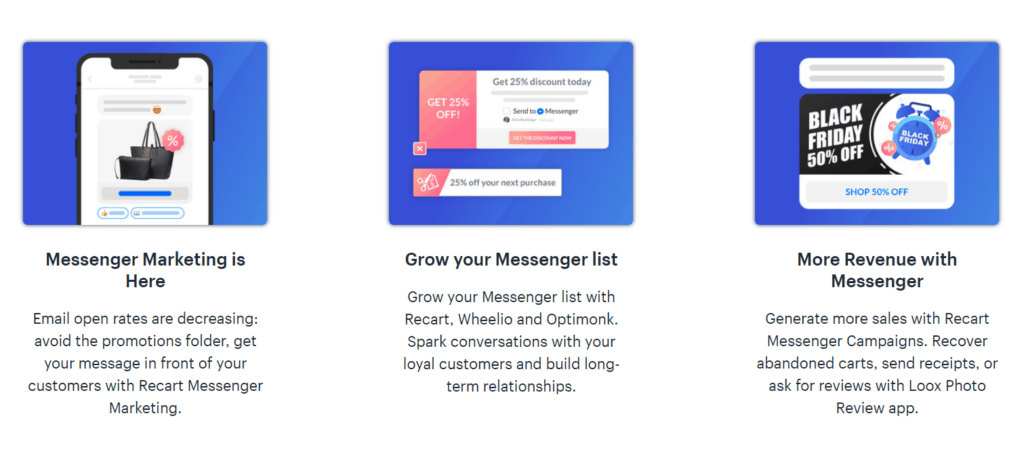 It's used because of the higher engagement rate, less friction than email, it's more personal, and if you're using Facebook Ads specifically, all your customers are on messenger as well. Recart makes it easy to grow your Messenger audience by providing tools to convert your visitors into subscribers with a 5-14% conversion rate.
Recart Pricing: Recart app offers a 28-day trial. After the free trial Recart is $29 per month.
Best Shopify Apps To Increase Average Order Value
10. Bold Quantity Discounts
The quantity discounts exist since trading itself started. The sellers offer discounts to buyers who order more because this brings more profit. The will sell 2 or more units of the same product to a customer for a discounted price because this way they are still taking more profit without having to find a new client.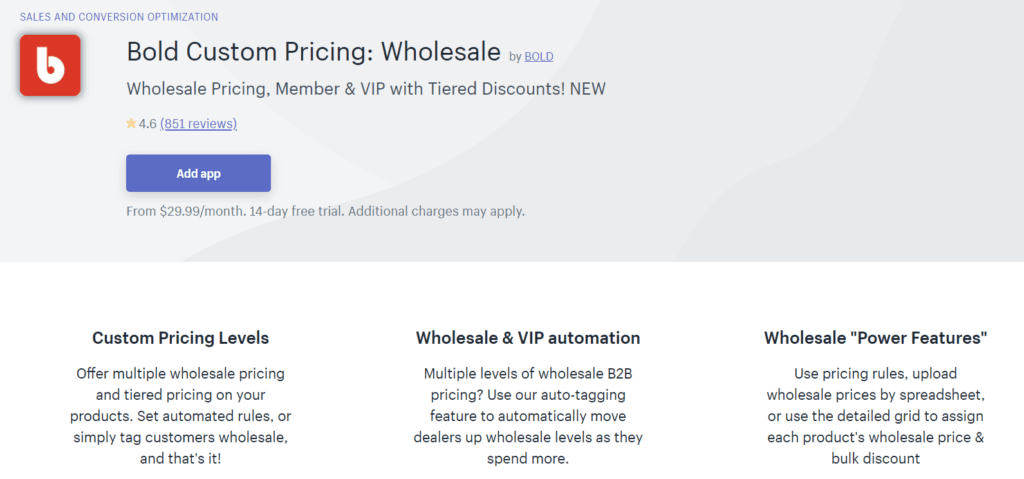 Bold Quantity Discounts allows you to do it automatically on your Shopify store. Shopify sellers usually offer 10% for 2 units and 15-20% for 3 or more units.
Besides the discounts based on quantity this apps allows you to have Wholesale Pricing, Member & VIP with Tiered Discounts!
Quantity Discounts Pricing: The app has a 14-day free trial and after trial it's $29.99 per month.
11. Product Bundles
It's quite usual when developers just implement on other e-commerce platforms what is already successful on Amazon. This app helps you bundle together 2 or 3 products for a discount so that visitors can buy that as a bundle. This works great when you're selling products that are complementary or in the same niche.
Besides the bundles features Bold offers the BOGO or the Buy One Get One option. This way you can offer a gift product to motivate your customers to buy your higher-priced products or buy more.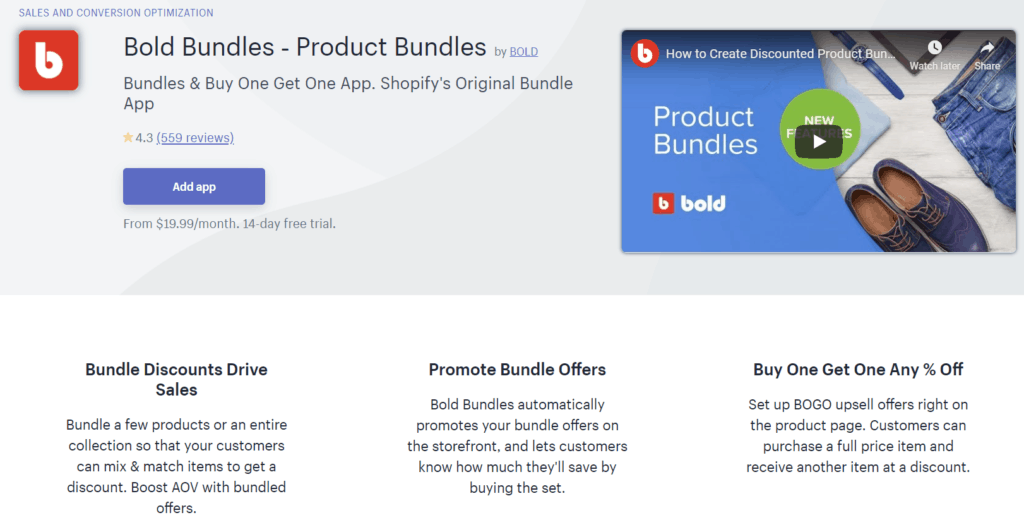 Bold Product Bundles Pricing: Product Bundles is another app by Bold and they offer 14 Day free trial and then it's $19.99 per month.
Best Shopify Apps To Increase Conversion Rate
12. Sticky Add To Cart BOOSTER PRO
It may seem that this app is the least important of all presented on this page, but allow us to change your perspective. We live in a fast-paced world and people's attention is very limited and it's easy to get distracted. This app helps with the main Call-To-Action on the page – the Add To Cart button.
The app will keep your button moving on mobile so that people can click it anytime when scrolling through the product page. It also keeps the cart on the page so people are continuously reminded they need to add the product to the cart or they already have products in the cart.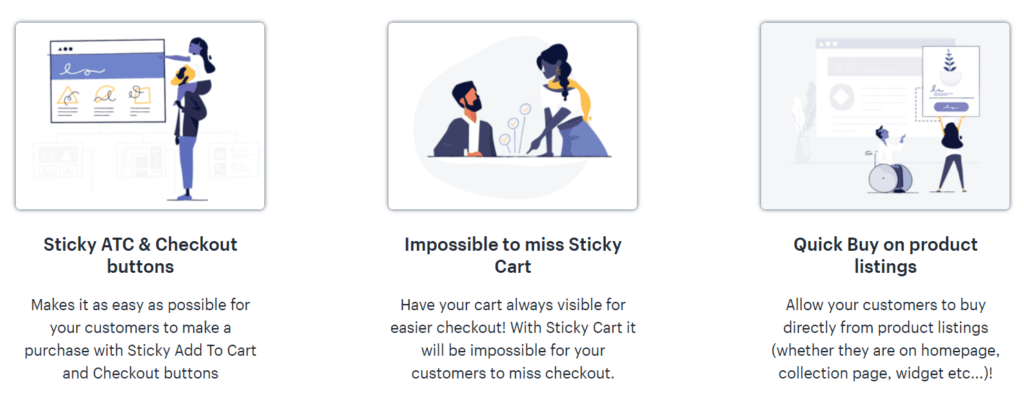 Sticky Add to Cart Pricing: The app has a 30-day free trial period and after the trial the price is $5.99 per month.
13. ProveSource Social Proof
ProveSource app is the best app for creating social proof on Shopify along with Loox app. Technically you could use Loox only but if you're using another app for reviews then ProveSource helps with social proof notifications.
As Robert Cialdini Ph.D. says ,, People are persuaded more by the actions of others than by any proof we can offer". A notification like the one below usually shows up at the bottom of the mobile screen or bottom left of the desktop screen. The purpose is to create social proof showing that real people in real time are already buying the products that you sell.

ProveSource Pricing: The app has a free plan which is always great to hear and a paid plan without limitations at $19 per month.
Best Shopify Apps For Upsell
14. Zipify One Click Upsell
There are very few chances that you haven't seen ads for Zipify One Click Upsell if you have a Shopify store. The creator of the app has a Shopify store that has generated over $70,000,000 in sales. He clearly knows how to make sales and what apps to use or create.

Zipify One Click Upsell allows Shopify store owners to upsell customers after they paid for the initial order. This is like having a real salesperson saying "do you need a case for your glasses?" after your customers just bought glasses. They can also say that they get a one-time-offer of 20% off if they buy now. This is exactly what your customers will see on Shopify with Zipify OCU, a page where they are offered another product and if they take it, your profits immediately increase without additional marketing costs.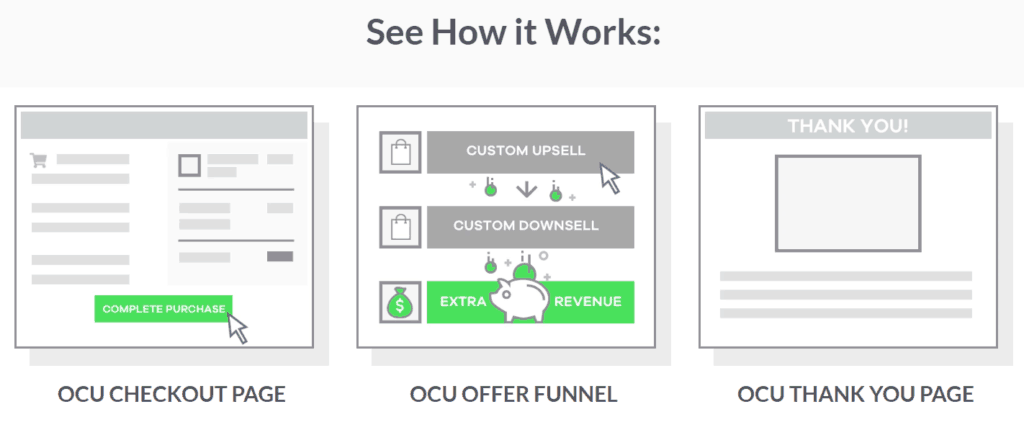 Zipify One Click Upsell Pricing: The app price starts at $67 per month but with yearly discounts, you can get 17% off.
We have also written a detailed review of Zipify One Click Upsell 2020 here.
15. ReConvert
This is another app that allows you to upsell customers on the thank you page. For your customers, the thank you page is what they see after they have purchased the product. It tells them thank you for their order and they always can come back to this page to check updates on shipping.
With ReConvert you can customize the default Shopify thank you page with some special offers. Let's say you want to offer a 30% Off discount to your existing customers if they buy another product. Since they're already coming to check updates, you don't have to pay for any promotions or marketing. It's like having direct access to their computer and choosing what they see.
ReConvert Pricing: The app has a free plan and then the payment is based on the number of orders you have starting at $7.99 per month for up to 100 orders.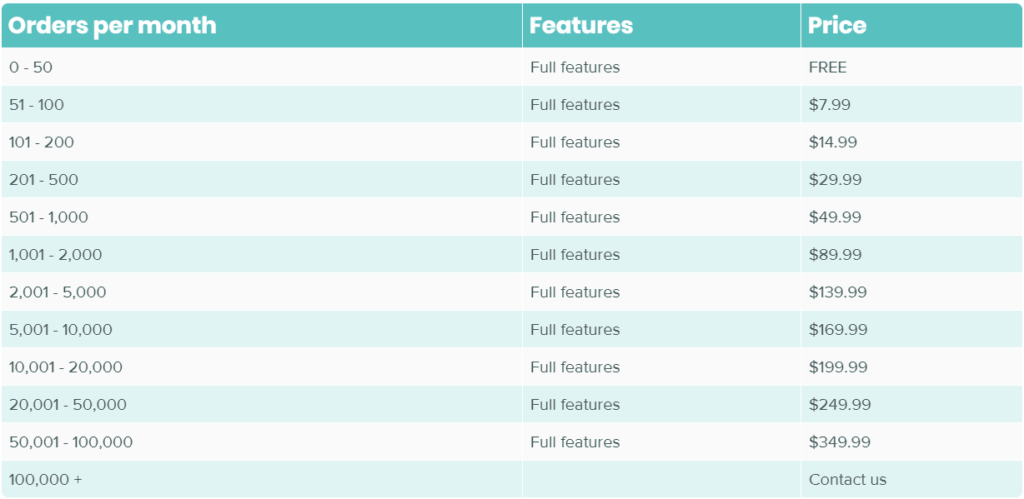 16. Sweet Upsell
Sweet Upsell is another app for upselling on the thank you page. The difference is that it shows popups and a list of additional products that are related to what your customer bought. The app is easy to install and works with any payment processor because of the integration in the native Shopify checkout.
The benefit of Sweet Upsell compared to ReConvert is that the price does not increase depending on how many sales you make. Sweet Upsell may be a better choice if you have a high volume of sales.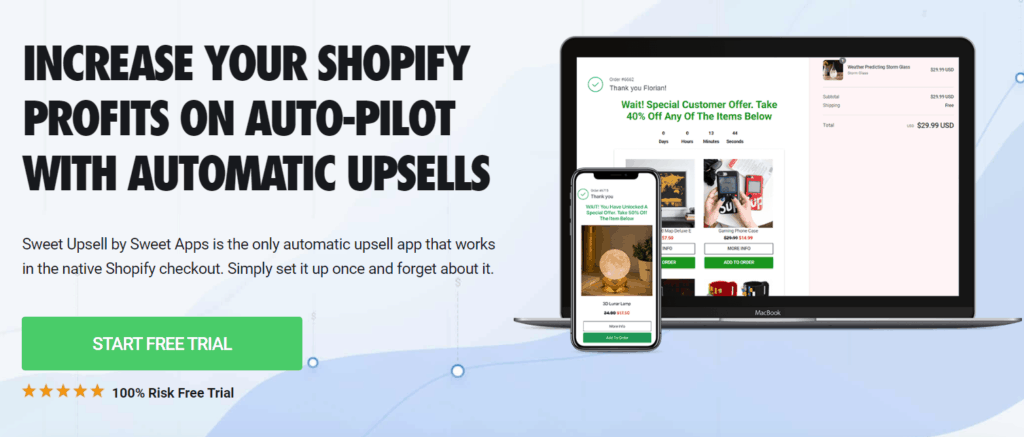 Sweet Upsell Pricing: The app is free until you generate 1 sale through the app. Then it is $19.99 per month or $13.99 if paid yearly.
Best Shopify Apps For Referrals and Affiliates
17. Refersion
We're talking about the best apps for every category. Refersion focuses on one subject only, allowing people to become your referrals and earn a commission for selling your products. This way you don't have to do any work promoting, the affiliates will do all the heavy lifting for you.
Track any digital sale your affiliate refers
Automate commissions and save time
Improve your affiliate relationships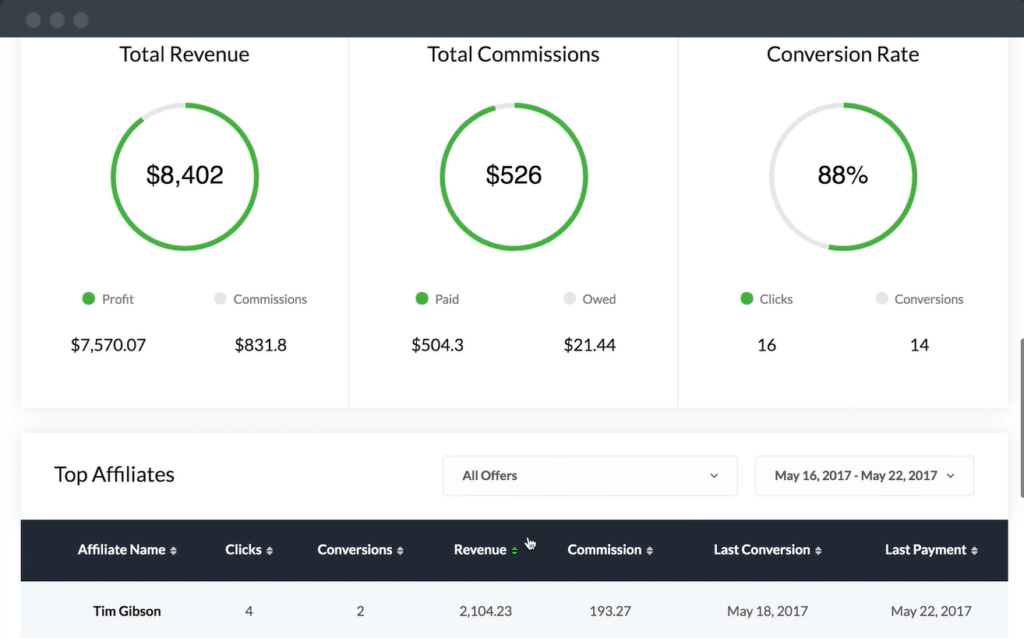 Your affiliates can sign up and have their own accounts. They get their own unique links which they share on social media or with their friends. This way they promote your online store and when someone buys with their affiliate link you get free sales. As a reward for promoting your store, affiliates get a commission which you can set in Refersion, usually between 10% to 35%.
Refersion Pricing: The app comes with a 14-day free trial and then it's $89 per month.
Best Shopify Apps For Suppliers
18. Printful
Printful is a supplier for Print On Demand products that don't have a minimum order quantity. It easily connects with your Shopify store and you can upload your designs on shirts, hoodies, mugs, socks, etc. (see the full list in the image below)
When you have created you product design it is displayed on your store and can be bought by your store shoppers. After you collect the money from the customer you pay Printful for manufacture and shipping, then keep the profit. This is the company used by the majority of influencers to sell their merch.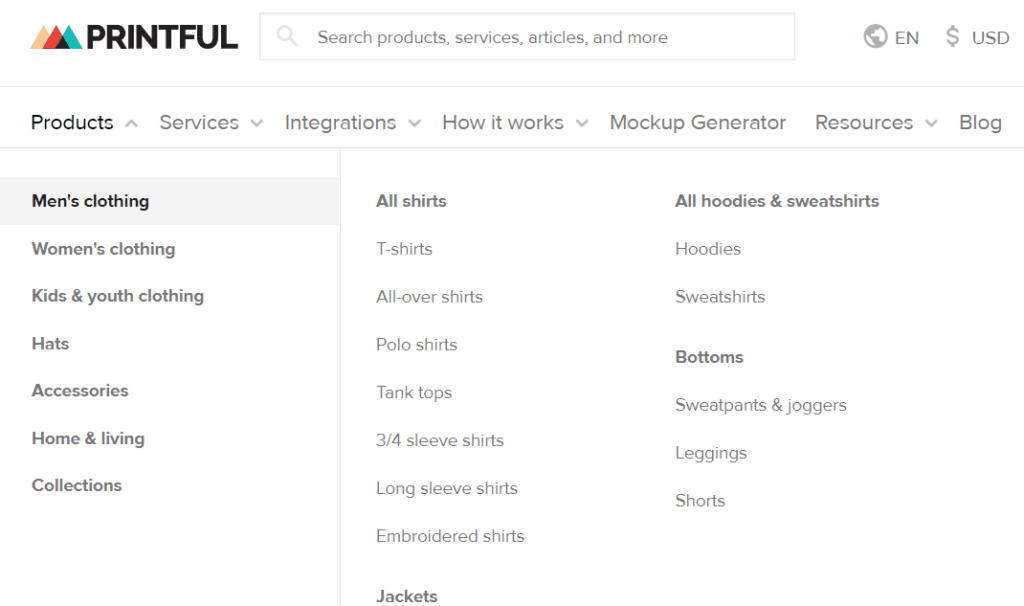 Prinful Pricing: The Shopify app is free to install and the best thing about it is that you don't have to pay anything to Printful until you have got your orders. The price of a T-shirt starts at only $8.
19. Oberlo
This is where every drop shipper starts and Shopify recommends Oberlo as their number one app. It is wonderful to see how such simple functionality powers 6, 7 and even 8 figure businesses on Shopify.
Oberlo connects with your Shopify store and you can also download the Chrome extension which helps you easily import products from Aliexpress. After doing product research and finding which products you need, with a click of a button, the images, description, variants are imported into Oberlo from Aliexpress. You can then edit it and within 5 minutes you can sell the product as your own.

When you get orders, you can use Oberlo to fulfill the products. Fulfillment means entering the address of your customer and sending them the product they bought through your website.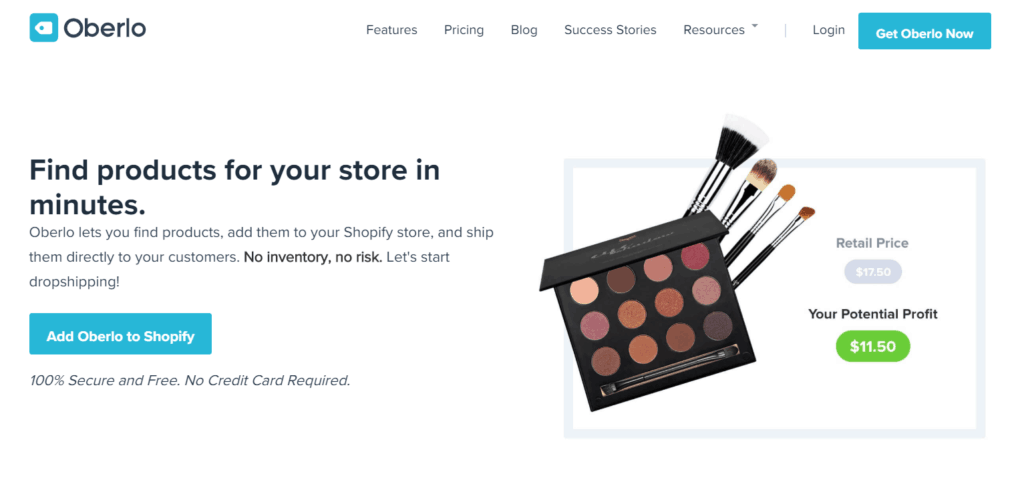 Oberlo Pricing: Oberlo allows you to import an unlimited number of products and fulfill them from Aliexpress. If you need additional features they have the $29.90 per month plan which allows you to do Variant Mapping (selling from multiple suppliers), Bulk orders, Earn Cashback with Admitad, and monitor order tracking and fulfillment.
20. Fulfillman
This is the lifesaver when it comes to fully automating the fulfillment process which is usually done with Oberlo. Fulfillment includes the payment, the shipping, and tracking number uploading. The benefits of Fulfillman include better pricing, factory sourcing, faster shipping, and great customer support.
Fulfillman will use 2 apps to integrate with your Shopify store and their staff does all the heavy lifting for you. They will source the product with better pricing than Aliexpress usually and ship it to your customers, then upload tracking numbers. For someone who used to do this manually, this may sound incredible, since it's so much stress, struggle, and time wasted.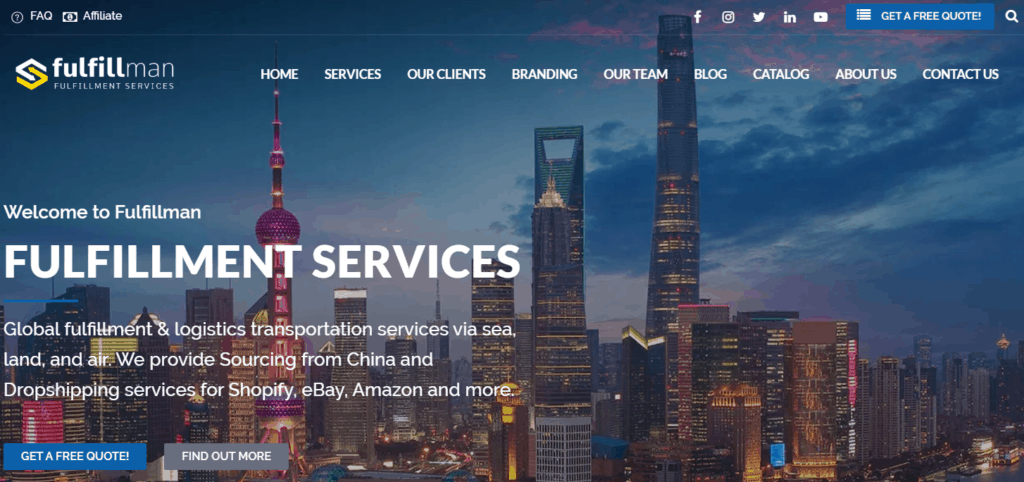 Best Shopify Apps For Customer Support
21. Tidio
Tidio is mainly a live chat app that can be installed for free in your Shopify store. It allows you to talk live with the visitors on the online store and is especially helpful when you're selling higher-priced products.
The fact that it's used by over 300,000 websites proves that it's reliable and there's high value in it even for the free version.
Tidio lets you get all your live chat, e-mail, and Messenger communication in one panel. You can install the free mobile app and save time and sales.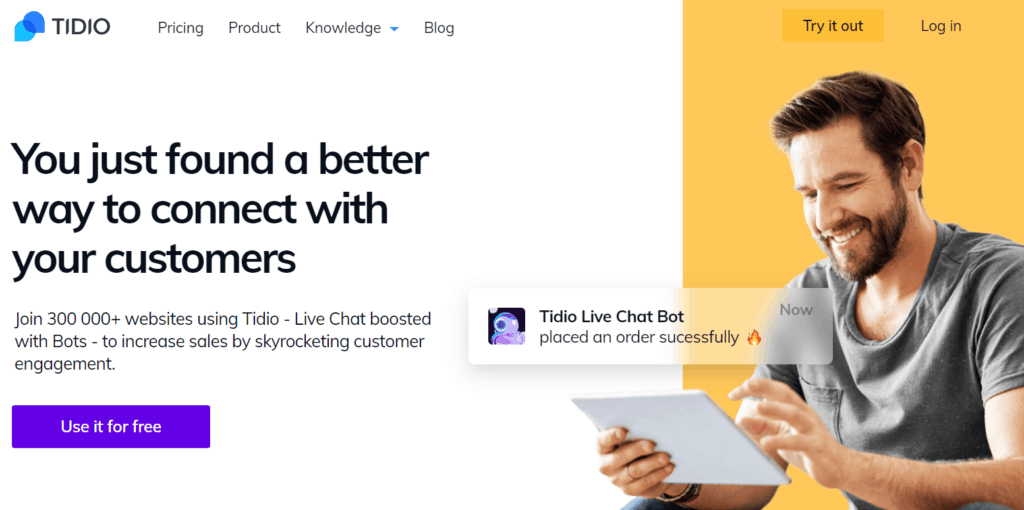 Tidio Pricing: They have a free plan which lets you communicate live with your visitors and customers. If you need additional features or you have more than 100 chats per month then the paid option is $15 per month per user or chatbot.
22. HelpCenter
The most effective way to answer your customer's questions is to allow them to find the answers themselves. HelpCenter is professionally built, easy to use, content-rich FAQ page which leads to much happier customers, fewer phone calls and emails, saved support team time and – growing sales!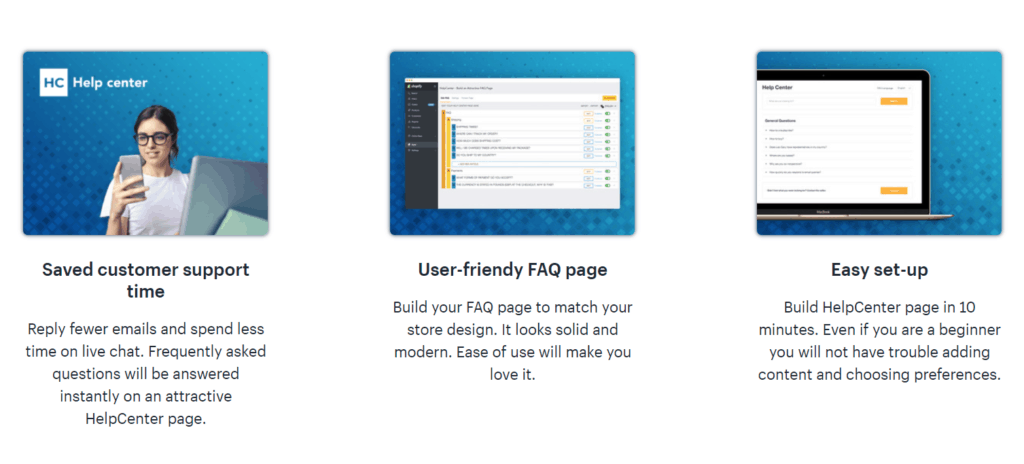 HelpCenter Pricing: Luckily there's a forever free plan which allows you to use the basics of the app and a paid $4.95 per month plan which gives you more customizations and features.
Best Shopify Apps For Researching Competitors
These are our favorite types of apps because it allows us to spy on our competitors. They are usually not installed on Shopify, they work separately. We have a few articles about Adspy, Ecomhunt, Pexda, and a few others coming soon.
23. Adspy
AdSpy is the largest searchable database of Facebook and Instagram ads in the world. Using their unparalleled array of data and innovative search functionality, uncovering the ads that you want and need to see becomes a simple task.
Adspy is the industry-leading collector of ads data. It has unique features that others haven't considered or can't implement. We like to call it the Google of Facebook Ads because it works this way. Just think of a product, type it in Adspy and see all your competitors and their ads showing up. You can see engagement stats, how many comments, likes,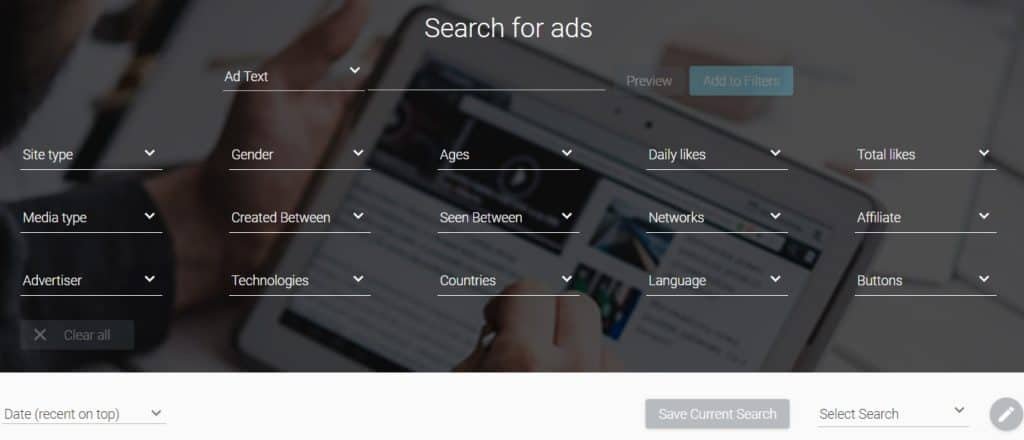 Adspy Pricing: The tool is $150 per month, but you can get a Free Trial account and perform some searches with the button below. Also if you decide to get the paid version after the trial is over, you'll get a $50 discount.
24. Commerce Inspector
Commerce Inspector is best known by its Google Chrome extension which is free to use and helps get a quick analysis of any Shopify store. By using the software you can track Shopify stores' product launches, best sellers, traffic, sales, ad campaigns, apps, and more.
Below you can see what the analysis of a store looks like with the Commerce Inspector extension.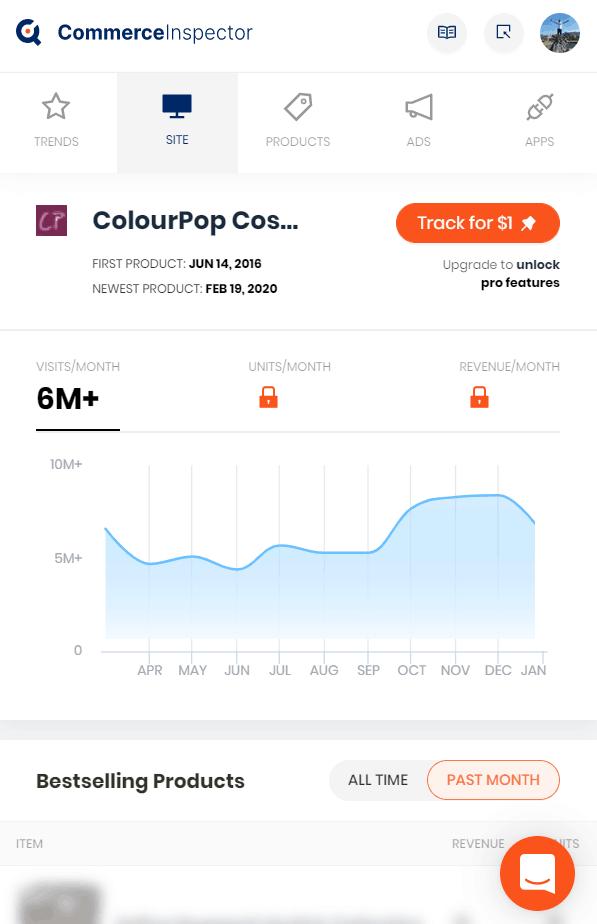 If you ever wonder what theme or what apps any particular Shopify store is using, then you will find this extension to be a goldmine. You can also spy on ads they use, and get detailed info about when and what products were added to the store. We have been using this extension and software for the past 2.5 years so it's proven.
Commerce Inspector Pricing: The chrome extension can be installed and used for free if you need basic Shopify analysis. You can also get a paid trial of $1 to spy on 1 store or get on a paid plan starting at $49 per month.
25. Pexgle
Pexgle came out as a spying tool in 2019 from the same creators who made Pexda. It allows people to continuously spy on stores, find the winning products from any store, get a list of trending stores at the moment, and track winning ads of your competitors.
Pexgle has recently developed their own Chrome extension to help with competitor analysis. See in the image below the information you can get about any store (mobile/desktop traffic by countries, products promoted at the moment, and ads).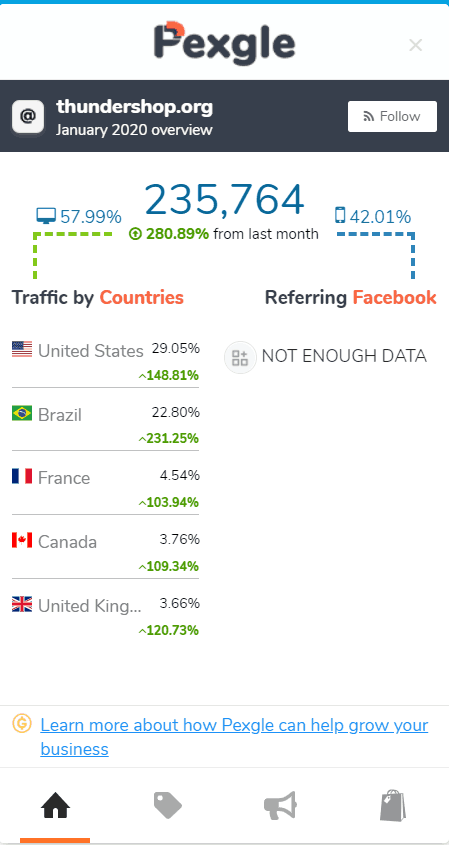 We recommend using both Pexgle and Commerce Inspector for spying on stores as the more sources of reliable information you have the faster you can beat your competitors.
26. Ecomhunt
EcomHunt is a platform that provides a curated list of products if you want to save time and avoid using the 3 tools above to make your own research. Ecomhunt uses data from multiple sources and websites to provide products that are selling right now along with Facebook Ads targeting audiences, videos, and analytics about the product.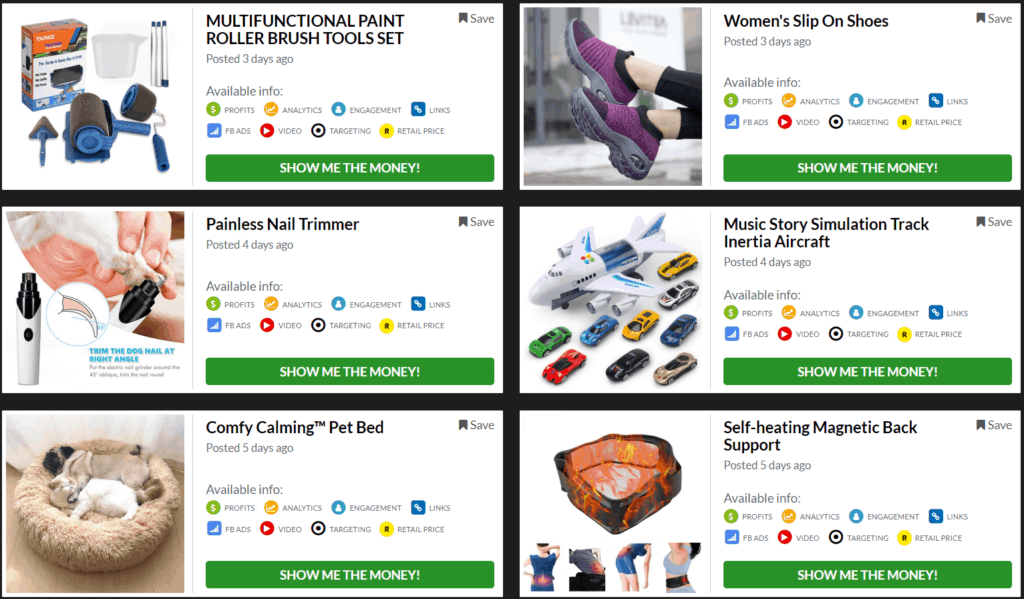 Ecomhunt Pricing: You can get an Ecomhunt account for free with the button below. If you want to unlock all pro features the paid plan is $20 per month. Pro features include Facebook ads targeting, links to other sellers, real buyers reviews, and new products before everyone else.
Shopify Apps You Must Not Miss
The list of 26 apps may look overwhelming so here's a list we compiled for must-have apps.
Conclusion
As someone who is looking for new apps to increase the sales or any other important metrics (conversion rate, average order value, lifetime value) you need to realize that there are thousands of apps that will only be a waste of time and money. The list above contains the best of the best Shopify apps in 2020 and you can also get free trials with our links for most of them.
Depending on the stage of your business you may need an app for conversion rate, email marketing, seo, or product research. Save this page so that you can have a reference in the future and help make your decisions about what app will make the breakthrough in your Shopify store.
Happy selling and let us know below which app you're already using or if we should include any others in the list and why!!