Ecommerce product research may seem difficult and time-consuming especially if you're new to the dropshipping business and you don't know much where to start from. Fortunately, this process can be optimized by using some tools and tips that will help you get all the necessary information for analyses.

The process of finding the winner products can be divided into 2 methods:
Competitors Site Spying  ( More Like Shopify Spy Tool )
Competitors Site Research & Purchase
Using Shopify Product Hunt Tools
Using FB Ads Spy Tools
Whether you're new to ecommerce or have been engaged in creating and growing an online business, it's important to keep in mind that you should not necessarily reinvent things but rather imitate or adapt things you see that are successful.
Spying competitors Sites
By using a spy tool, you're getting all the information you need about your competitors and their best selling products. We've selected a couple of recommended spy tools that you can use: Commerce Inspector and EcomHunt.
Pexgle is a recently launched product by Pexda and it gives you information on the hottest trending products you can use in your business.
Pexgle Features
Pexgle does 'micro-targeting' to show you unsaturated products within your niche.
It helps you research winning products and keeps them private.
Unique personalization capabilities.
The industry's largest winning products list.
Fresh data with in-depth analytics.
Multi user account access for your team
User-friendly interface
So Pexgle basically vows to help you manage your time efficiently by giving you an easy-to-use mechanism to find exactly what you want. Pexgle offers different monthly and annual pricing for different plans, depending on what you're interested in, but, for a limited time, you can try Pexgle and all of its power for free.
Pexgle is still a very new tool for product hunt so the article will be updated with more details and a full review of Pexgle.
1.2. Commerce Inspector
Commerce Inspector is a Chrome extension that will give you all the details about the store from their sales data, recent sales, recently added products, best selling products etc.

This tool has really useful features that one can take advantage of, including:

Tracking your competitors, and getting access to information like their revenue, units sold, and traffic insights as you browse
Identifying hot-selling products as well as new launched products
Discovering the apps and themes that are used by the most successful shops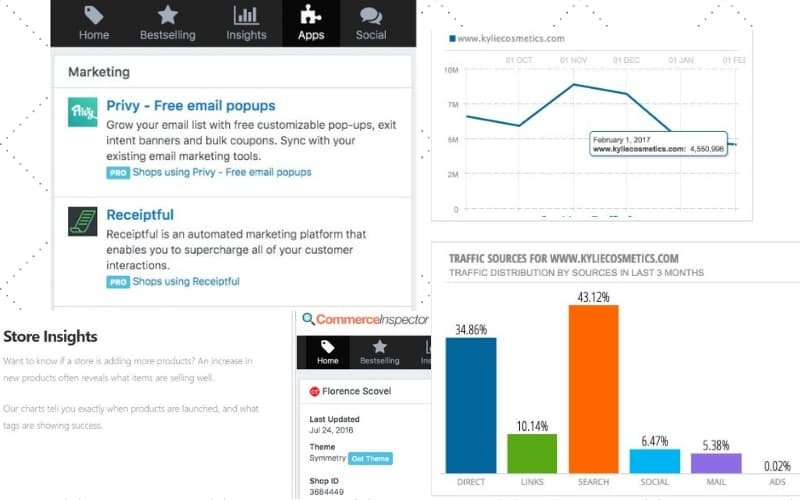 Speaking about pricing, the Commerce Inspector plugin is available as a free download. However, their paid plans offer sales figures, search across all stores, and deeper insights, the most popular plan being $49 monthly for three stores.

Competitors Site Research & Purchase : Exchange Shopify
Exchange Shopify is a platform with over 3,000 e-commerce stores listed for sale where you can purchase an online business that creates an additional income stream that you can own and grow without having to build it all from scratches. Buying a website can be a good investment if chosen carefully and maintained correctly.
When you land on their page you can see an array of different stores that you can sort by revenue, which will automatically get you to the most successful stores within different niches. The cool thing about the Exchange platform is that it's really transparent in terms of monthly average statistics that it gives you including revenue, traffic, profit, and inventory value.
When you're browsing Exchange for a store to buy, you should first determine what type of investment you want to make:
What are your revenue goals for the website?
How much money and time are you willing to invest to get there?
Is it a store that you only need to maintain or does it have the growth potential that you will need to figure out through marketing?
Are there ways you can add value to the site that the original owner hasn't?
Doing Your Research
Each listing contains a description of what you get with the store and an asking price, which can be negotiated with the seller. Sellers and buyers can communicate directly through Exchange using an anonymous email to discuss additional information about the store or the sale.
Transferring Ownership
The transfer process usually takes 3-5 days, upon which Exchange prepares the store to make you new owner.
To make the transfer easy on both you and the seller, make a checklist of all the items included in the deal, like what assets and accounts need to be transferred, going through them one by one.
Using Shopify Product Hunt Tools
Using a hunt tool can be extremely effective since they select only the best product with proven data and display in their platform. They provide an entire cheat sheet with product data like Facebook targeting cheat sheet + Aliexpress Store Links & Stores Selling those products. They also provide the Facebook campaign URL of the product.
3.1. Pexda

Pexda is still a widely used hunt tool for hot selling products as well as upcoming winner products from marketplaces like Amazon, eBay & Aliexpress.
When you incorporate this simple, user-friendly tool into your eCommerce business, you'll immediately begin to alleviate time-consuming product selection and figure out winning ad sets to promote those winning products.
You'll be able to quickly and easily find winning products and the exact audiences buying them, thanks to Pexda's integrated suite of advanced features, including:  
The Best New Winning Products Every Single Day
Proven Facebook Ad Copy For Your Inspiration
Hot Products Before They Go Viral
Targeted Audiences That Convert
Data-Driven Research
It's professionally engineered to deliver money & time-saving benefits to your business.
You can find a more detailed review of Pexda here.
3.2. EcomHunt

This tool is very efficient in giving you everything you need to run a profitable online drop shipping business. As they say on their site, they "are manually adding winning products on a daily basis" and promise to save you from wasting money and time on bad products.

How does EcomHunt Work?
As you can see, they're showing you all the hot and fast selling products online, with all the available information that they have on the products. In other words, EcomHunt saves you the stress of doing your own research, instead, you can focus on other things that matter for your e-commerce business.
EcomHunt updates several products on a daily basis for it users and which of course are specially handpicked by experts. The products updated include the following data:
Profit
Analytics
Engagement
Links
Facebook Ads
Product Video
Facebook targeting etc.
This pricing for EcomHunt is $29 only while the beta testers of the new version will only pay $20 per month. However, if you're really short on money, they also have a free plan, with very limited features but you can always upgrade to the full paid version (with no discount).
You can find the detailed Ecomhunt review here.
Using Facebook Ads Spy Tools
The Facebook Ads Spy tools are great for finding winning products in 2020. They allow you to spy on competitors' ads and this tells you two important things. The first one is that the product they are selling must be working if the ad has many views. The second one is the ad itself, you can model that ad and make yours in a style that is already working.
4.1. Adspy
Adspy works like a search engine for Facebook ads. The tool allows you to find many good ads according to your filters. You can see the filters available in the image below.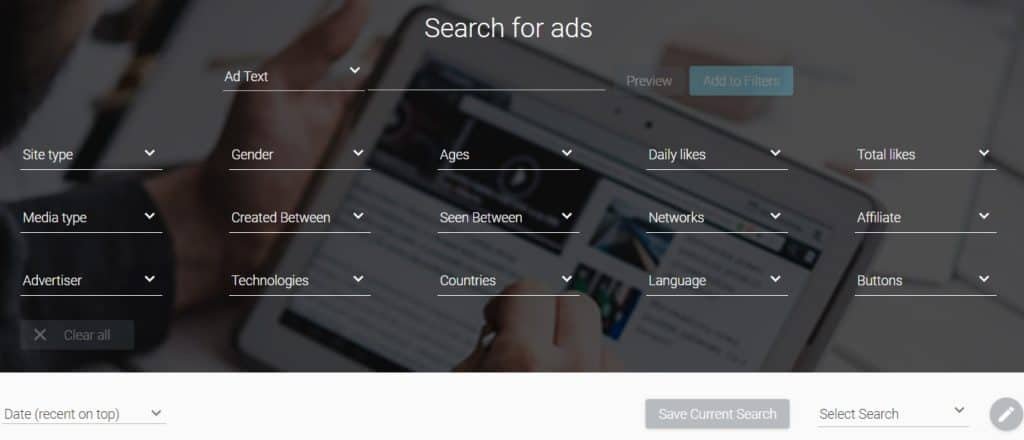 You can find a detailed article about Adspy here.
4.2. Bigspy
Bigspy is a free tool that allows you to spy on ads on Google, Facebook, Twitter, and some other smaller platforms. It has less features than Adspy and is less accurate but you can still use it in 2020 to find winning products.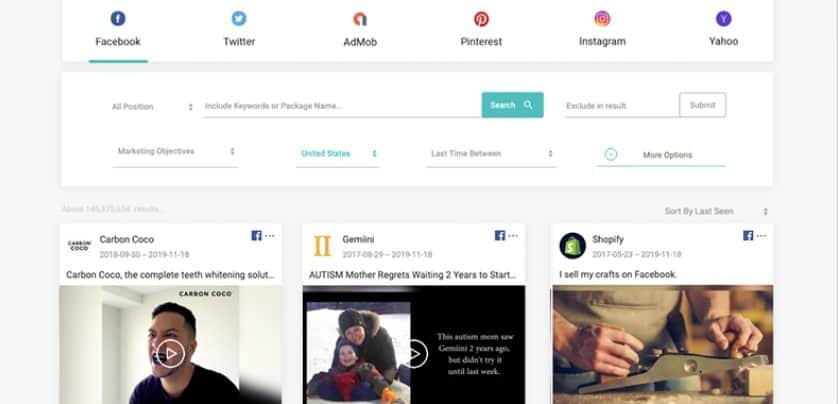 4.3. Facebook Ads Library
The Facebook Ads Library which became available in 2019 by replacing Info & Ads is another great tool. It is created by Facebook as a method to make advertising more transparent to the average user.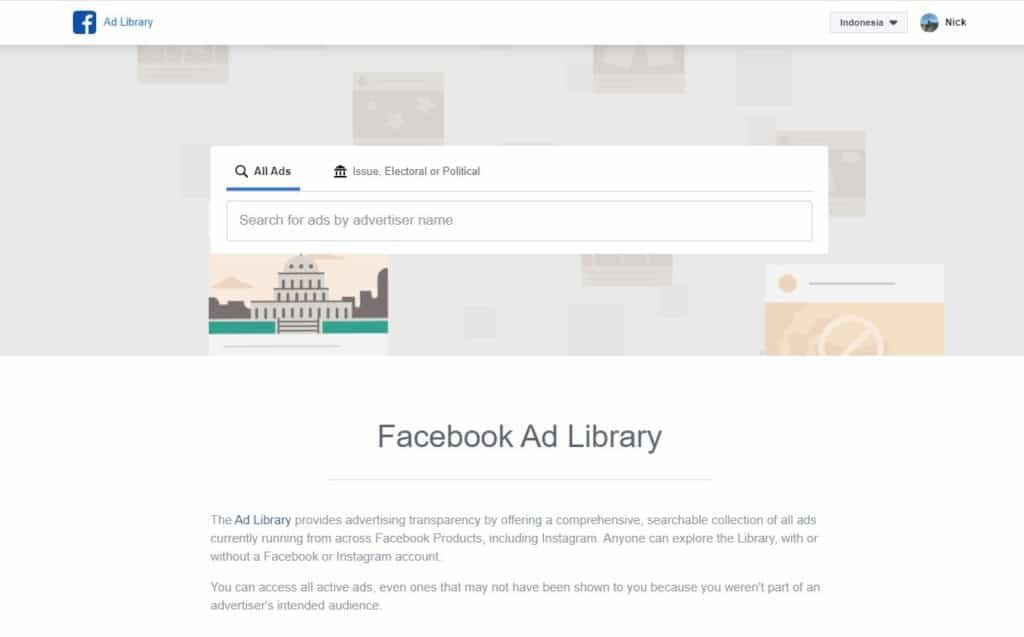 Conclusion
There are many methods to find Shopify winning products in 2020. The most effective is still spying on other successful stores with tools like Pexgle and Commerce Inspector. Adspy is gaining popularity due to the fact that finding ads your competitors are running gives you access to the low-hanging fruit.