Are you looking to learn more about Pexda and to get the exclusive Pexda coupon code?
PEXDA is an excellent market research tool that is effective for sourcing and doing product research for a variety of platforms. Pexda, which is also known as a product hunt tool, can help you easily find new products for your ecommerce store.
Whether you are using Shopify, eBay, Amazon, or any other ecommerce platform, Pexda will do the hard work like coming up with compelling marketing data and adverts for you. Also, other than helping you find products, this tool can also give you great ideas and pictures for your store.
The following are some of the key features users love about Pexda.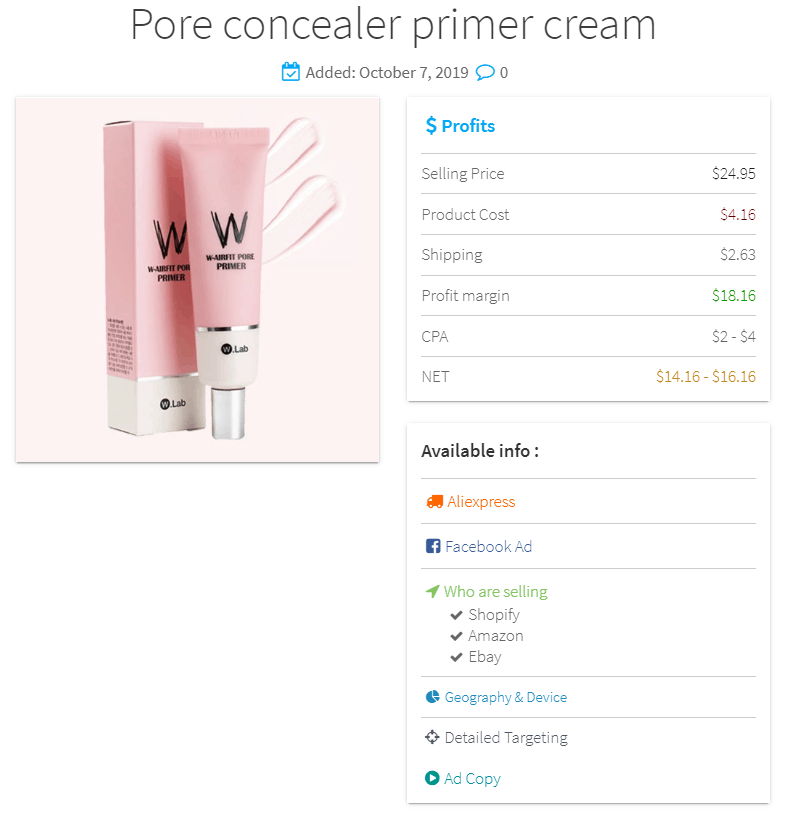 I. Features of Pexda
1. Comprehensive List of Products
One of the best features of Pexda is its comprehensive ] database of products that are hot sellers. Some of the product data provided by them include Amazon report, AliExpress report, Ad Insight, and Facebook targeting suggestion. Basically, everything about the product and how you can be successful with them is provided.
They also provide the best and trending winning products on their platform every day. Additionally, the platform is updated with untapped winning products which are not tested by marketers but are still performing well at the marketplace.
2. Proven Facebook Ad Copy
Pexda gives you access to Facebook Ads that are doing well to serve as inspiration as you look to create your own ads. The Ad copy, which they have tested themselves and is proven by other marketers, includes metrics such as text used in the ad, photo/video creative and views, reactions, total number of likes and shares, as well as comments. This way, you will know how good the ad is for selling the products.
Besides, with every product, they include a link which you can follow.
3. Untapped Winning Products
Untapped winning products are those products that are not viral, but Pexda predicts they will do well in the marketplace. They are therefore great for drop shippers who want to avoid huge competitions. These products are marked in green in order to distinguish them from hot selling products.
4. Discover Hot Products Before they Go Viral
Another amazing feature of Pexda is that it offers the opportunity to discover hot and new products before they go viral. With this tool, your store will be the first one to sell the new products before other competing stores.
5. Target Audience Section
You will love the target audience section where Pexda tells you the market sections that convert best for every product. The tool does a product testing using Facebook ads in order to find the correct target audience for the product. They then list the target audience that was used to test a particular product.
6. Profit Calculation
You definitely do not want to sell products with unclear profitability. Pexda not only gives information on the product, but also its product cost, selling price, shipping costs, CPA, profit margin, and Net profit. When you have this information, you will make an informed decision on whether the product is worth the investment or not.
7. Chrome Extension
Pexda also offers a free Chrome extension that allows you to easily import winning products in your Shopify store without any manual work. After you sign up, you can download the extension and install it automatically.
II. How to Use Pexda
Pexda has a user-friendly and easy-to-navigate dashboard that makes it easy for users to find what they are looking for. They have several categories and subcategories. On the right-hand corner, there is a field called Niches where you can see products niche list which is updated regularly. Some of their niches include Sports, Family, Beauty & Health, Pets, Food, etc.
There is the option to sort the products in this field by newest, total orders, FB Ad, FB Ad-likes, FB Ad-reactions, and FB Ad-shares. There are also categories of special products that only premium and ultimate members have access to. For instance, premium members can sort the products by selling price, product cost, and target audience.
III. The Pexda Pricing
In terms of pricing, Pexda has three plans. (Check the discount coupon at the top & bottom of the review):
Use Pexda Coupon Code "DOTCOMENGINE" & Get 20% Lifetime Discount
The premium plan is highly recommended because you get instant access to products as they are released. Hence, you will be the first to launch products before they go viral. Meanwhile, the Ultimate plan gives access to special products, that's exclusive because of the lifespan of products in the e-commerce industry.
Here is what you get in all three plans:
Facebook Ad report
Amazon report
AliExpress report
Targeting suggestion
Geography & device
Unlimited products each day
Ad copy- fresh videos
Auto hunt-tool
24/7 support
Conclusion
In conclusion, we can say that Pexda is an investment that is worth your money. If you own a drop shipping or ecommerce business, Pexda will enable you to find and buy pretty much anything without much hustle. With this handy tool, you do not have to spend hours doing market research and creating your own content, saving you a lot of time and effort. Besides, you do not have to pay much in order to get winning products. You can find the Pexda Coupon code below, copy the code and click "Go to the deal".
Check out Pexda – Tool to Find Winning Products for Drop Shipping
Need more tools to find winning products? Check this article.