What is Klaviyo?
Klaviyo is an email service provider that allows e-commerce business owners to automate email marketing campaigns, make more sales and build an email list of subscribers and customers. This is the number one email app we recommend for Shopify stores. Besides Shopify, Klaviyo can integrate with other e-commerce platforms like Shopify Plus, BigCommerce, Magento, Commerce Cloud, and even WooCommerce. Using Klaviyo e-commerce store owners can build powerful email marketing automation, segment subscribers, recover sales with abandoned cart emails, and send unlimited marketing broadcasts. All of Klaviyo's abilities are done with the most cutting-edge features. These include dynamic coupons, personalized recommendations, prebuilt templates, and customer scores.
Why do you need Klaviyo in Shopify?
Klaviyo can be used in a Shopify Store for multiple purposes. Perhaps the number one reason to have it is the abandoned cart emails that you can easily set up using the prebuilt sequence or writing your own. Besides cart abandonment emails you can build welcome flows for new subscribers, product review flows for customers, browse abandonment (in the Amazon & eBay style, when a subscriber is browsing a product on the store and after a specific amount of time they get a reminder on the email 'Did you see something you liked?' and the product they just viewed), I know, it's powerful.
How Easy Is It To Setup?
As mentioned above Klaviyo has tons of prebuilt templates and a feature called Setup Wizard which you can use when setting up the account in under 10 minutes. You can upload your logo at the top of every email, the sender email, the name of the sender, social media links and some quick links to the store which will be included by default in every email but you can still customize any email individually. It can be a bit challenging when the first time logging in but in a few days of actively using it, the dashboard starts to make sense. Klaviyo can be used to make very advanced email campaigns but at the same time, a beginner can manage to set up the needed flows in one hour.
Klaviyo Abandoned Cart Emails
The first thing to mention is that the automated email campaigns are called Flows in Klaviyo. Let's imagine a scenario where you use these automated emails. A visitor comes from social media or paid ads to your online store, they like the product, add it to cart, start to check out but they see the shipping price and they change their mind and leave. This is the scenario that happens very often, in fact, 70 to 80% of shopping carts are abandoned online. It just makes sense to try to at least see what was the reason someone showed interest and added to cart, but didn't end up buying. However, you can do more than that, it's possible to have automated emails sent at specific times after the visitor abandoned the cart. Here's the sequence that we use:
First email
1st email is sent 15-30 minutes after the cart is abandoned which is destined to just remind the visitor about the abandoned cart. Maybe they were with their kid and they got distracted, someone called, or their boss walked in on them. It's usually a short email and you can see below the prebuilt template that Klaviyo offers: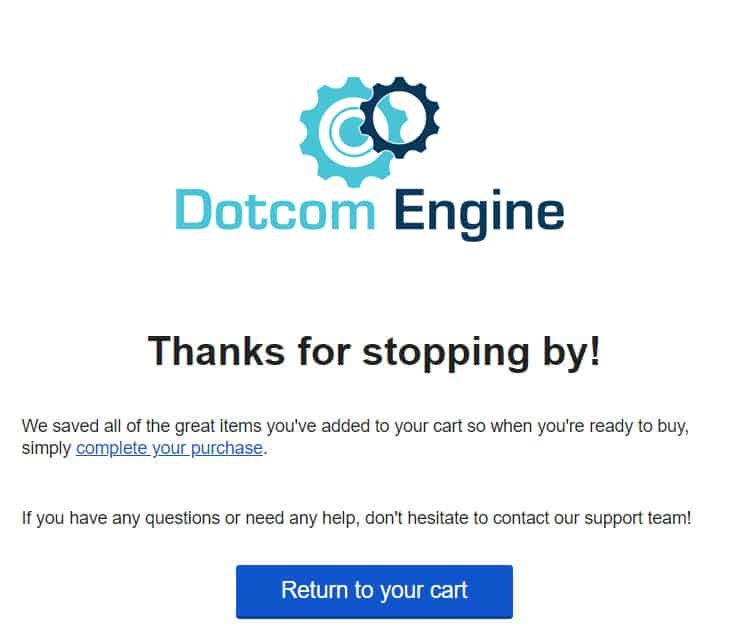 Second email
2nd email is sent 6 hours after the 1st email (and if they didn't buy after the first email) which is destined to ethically bribe the client with a discount coupon. If the price was the main objection or if they are the type of customer who wants a little push, then the coupon will work just fine. We and other experts as well have tested that the 15% discount works best because it is good enough to make people take action and also keeps your profit margin. The coupon is time-limited so that we create urgency. The highlighted button clearly suggests what is the action to be taken in this email. We also explain exactly how it works and what the client should do by saying "copy the coupon and use the button". We like to keep the emails short and you can see below the template that we use: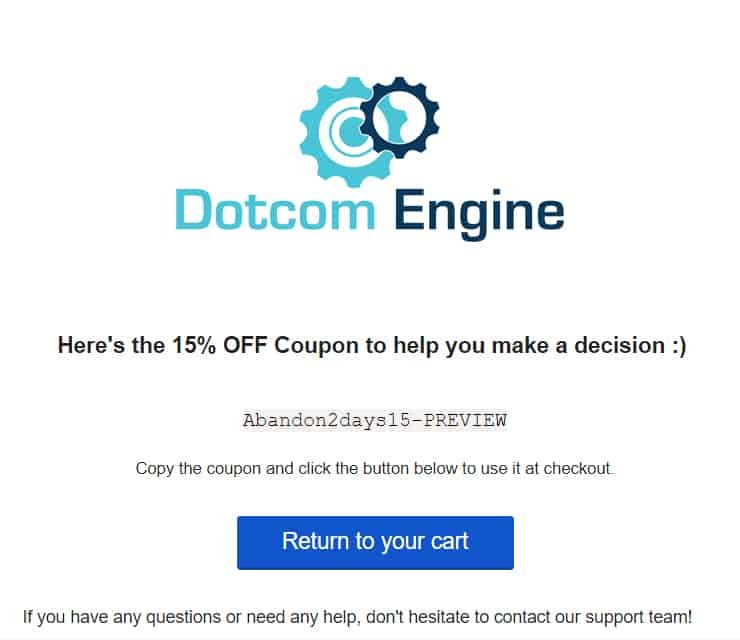 Third email
3rd email is sent 24 hours after the 2nd email which is destined to remind the visitor about the expiring coupon and cart. This is again destined to create urgency and scarcity since the cart expires because you're selling out so you can't keep the cart active forever. This deal is presented as secret to create exclusivity. As in the 2nd email, we provide an option for the potential clients to reach out in case they have questions, this works best especially if you're selling higher-priced products.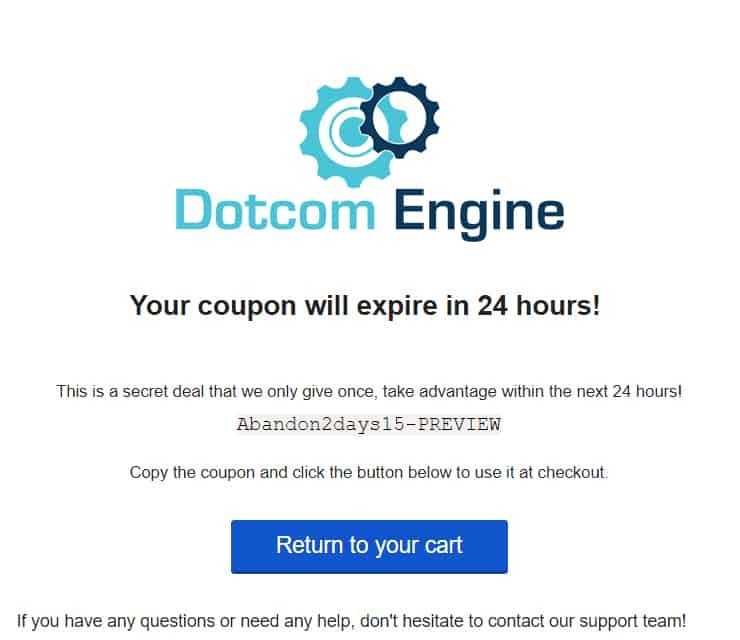 How To Create Time Limited Coupons Klaviyo
To create a coupon that is dynamic so that it's unique for every abandoned cart you need to go to Klaviyo Dashboard and select Coupons from the left sidebar. Add a new coupon and make the settings as shown below.
The name that you will be using inside your emails,
The percentage off
The number of days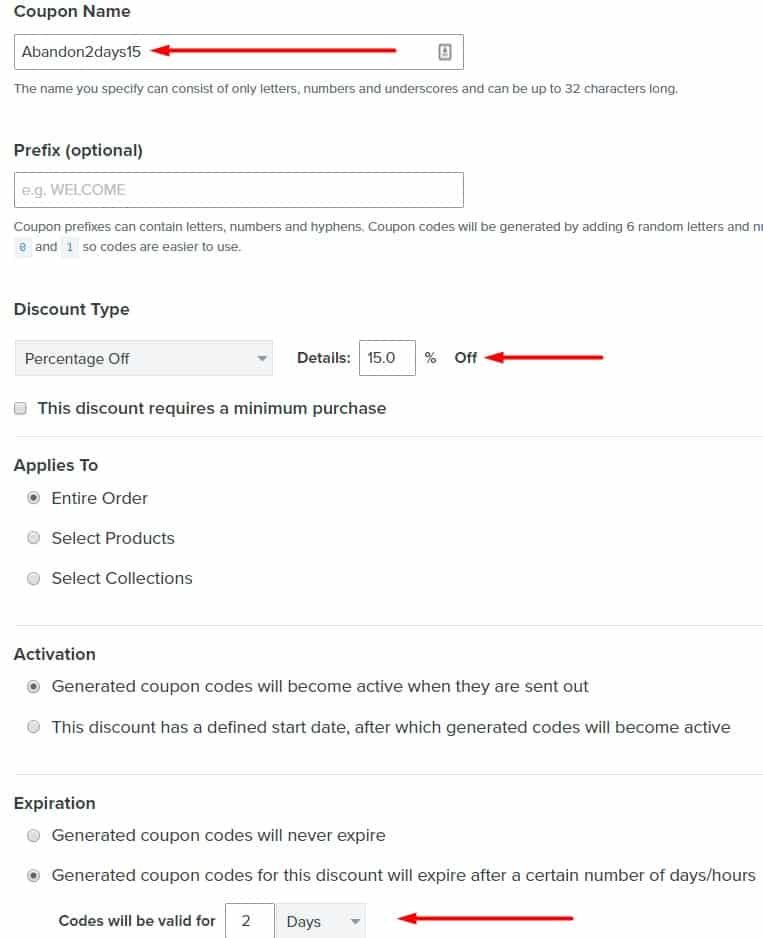 Klaviyo Compared To Other Email Service Providers
Most Shopify store owners are aware that in May 2019 Mailchimp stopped the collaboration with Shopify and everyone had to change their email providers. Among the popular ones in the Shopify App Store are Omnisend, Abandonment Protector, Conversio, & Klaviyo. We have tested more providers, but all of them seem very limited compared to Klaviyo.
Omnisend – paid only, support issues
Omnisend looked promising but we tested it and while they claim to have a free plan. After 14 days they simply turn off your automated email campaigns without notice if you're not on a paid plan.
Abandoned Protector, Conversio, Privy – limited features
On the other hand, Conversio, Abandonment Protector, and Privy don't have many features besides the emails sent to recover sales from visitors who started the checkout process but didn't complete it. Consequently, if you need other functionality you need to have another ESP (email service provider).